Safe maritime operations under extreme conditions: the Arctic case.
Scope:
SEDNA will develop an innovative and integrated risk-based approach to safe Arctic navigation, ship design and operation, to enable European maritime interests to confidently fully embrace the Arctic's significant and growing shipping opportunities, while safeguarding its natural environment. The overall budget for this collaborative project is €6.49M with a maximum European Grant of €6.49M.
To maximise impact, SEDNA will provide formal inputs to international regulatory regimes regarding regulation adaptation requirements for its safety solutions.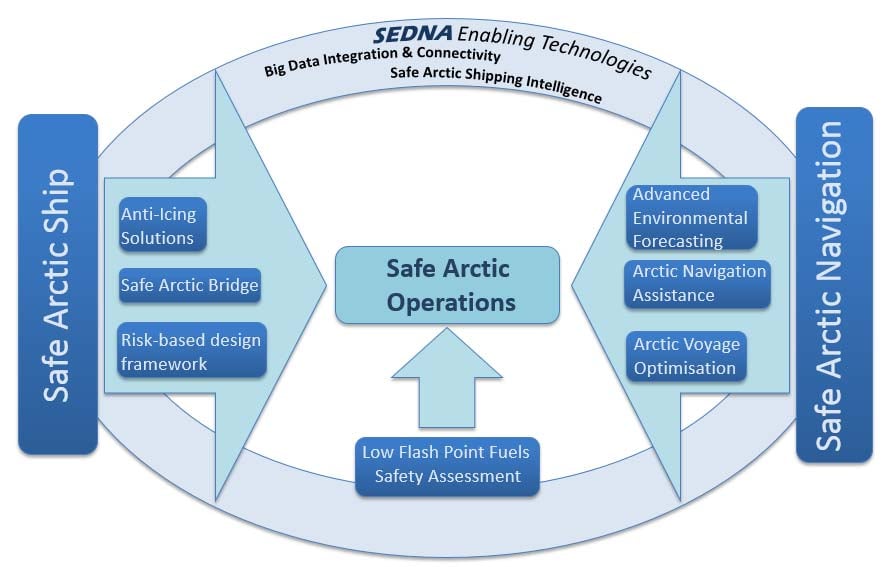 Diagram: Sedna enabling technologies
Work packages:
WP1. SEDNA Safety Solutions Vision and Goals
WP2. The Safe Artic Ship
WP3. Safe Artic Navigation
WP4. Integrated Safe Arctic Knowledge Base
WP5. Real World Environment Validation and Evaluation
WP6. SEDNA Stakeholder Engagement and Diffusion
WP7. Project Management
WP8. Ethics Issues Management
Partners:
Classification societies:
Industry:
BMT Group Ltd (coordinator) (UK)
AKER Arctic Technology OY (Finland)
Ulstein Power & Control AS (Norway)
Stena Rederi AB (Sweden)
China COSCO Shipping Corporation Limited (China)
Universities, Reseach and Technology Centres:
University College London (UK)
Chalmers Tekniska Hoegskola AB (Sweden)
Arkitektur- og designhøgskolen i Oslo (Norway)
University of Southampton (UK)
MET Office (UK)
Cork Institute of Technology (Ireland)
Aalto-Korkeakoulusaatio (Finland)
Dalian University of Technology (China)
Harbin Engineering University (China)
Funding:
This project has received funding from the European Union's Horizon 2020 research and innovation programme under grant agreement No 723526