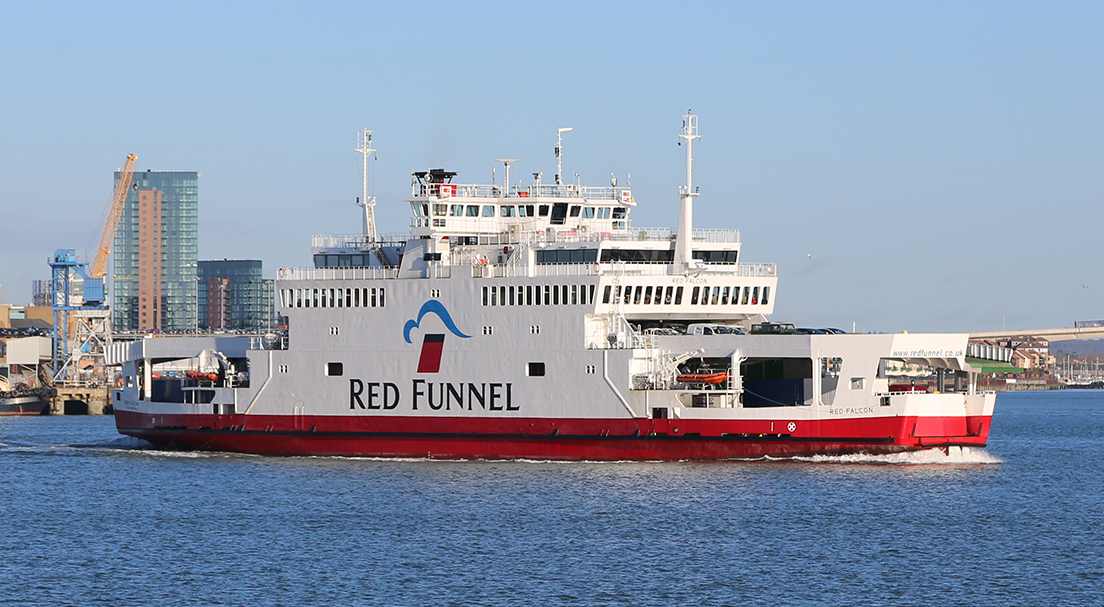 Client challenge
Red Funnel is a ferry company that carries passengers, vehicles and freight on routes between the English mainland and the Isle of Wight. Improving efficiency and maintaining high reliability are key objectives for the company as the three Raptor Class ro-pax vessels that they operate are the largest ferries to serve the Isle of Wight and complete approximately 4,000 sailings per annum, clocking up an amazing 45,500 miles each year.
How we helped
The first challenge that LR resolved was to enable the vessels with data. LR has an extensive track record of building and installing vessel data systems and was able to supply Red Funnel with a low-cost turn-key data solution. The supplied system connects to legacy data systems onboard and was supplied with all additional sensors.
Once commissioned, the data system wirelessly transmits all data channels to LR's secure connected assets platform that exists in the cloud. From there, LR processes the data using data analytics to discover how, why and where fuel is being consumed on the vessel.
The Red Funnel stakeholders can then access their data and analytics tools through a secure web portal that can be viewed wherever there is an internet connection.
The key features of the Fuel Monitoring and Analytics application are:
Detailed reporting of each voyage's fuel consumption and timings, including trend analysis
Secure cloud server that stores vessel performance data and provides open access to all stakeholders
Data viewer for visualising all operations and the monitored variables, including vessel tracks
Tool to quantitatively value technologies and initiatives used to reduce fuel consumption
Benchmarking performance of the vessels in the fleet
Engine problems and abnormal vessel operations can be investigated
Optimising propulsion systems
One of the areas that Red Funnel was interested in optimising was the operating points for their Voith Schneider propulsion systems. These highly manoeuvrable propulsion systems have variable pitch blades enabling the vessel to achieve speeds at different combinations of pitch and engine RPM. However, they could not identify which combination of pitch and RPM was the most efficient.
By using the LR Fuel Monitoring and Analytics application, LR were able to identify that running the Voith system with a high pitch and low RPM was consuming more fuel for a given cruise speed, compared to operating at a low pitch and high RPM. The engines operate at a lower specific fuel oil consumption (SFOC) point at the higher RPM setting. As running engines at a higher RPM to reduce fuel is counter intuitive, this result would never have been identified without the LR Fuel Monitoring and Analytics application and the human intelligence behind it.
Outcome
Red Funnel realised that maximum asset performance can be achieved through leveraging the power of data enabled assets and the human power of LR's maritime knowledge.
As a result of maximising asset performance, Red Funnel will also be meeting the challenges of reducing emissions and will be in a position to provide transparent and verifiable reporting on environmental emissions to their stakeholders, whilst demonstrating a commitment to their community.
Red Funnel has installed LR data systems on all of their Raptor Class ro-pax vessels. LR data systems are highly expandable and adaptable, enabling Red Funnel to progressively add more data intelligence to their ships, such as condition monitoring of machinery, structural integrity monitoring, and human factor data, such as passenger and vehicle movements.
The LR data system also has a communications backbone to enable data to be ported anywhere on the ship so that crews can take advantage of the value of the system – it is not just an office reporting tool.
The insights and intelligence gained from the application and LR's human intelligence will help Red Funnel make informed investment decisions for their new ships and technology. It will be a valuable asset that will guide the company's direction in achieving a sustainable fleet with high efficiency and high reliability.
"This application allows us to analyse trends in engine or hull performance, using valuable telemetric information to ascertain if any adjustments are needed to improve performance."
Mark Slawson OBE
Fleet & Technical Director, Red Funnel Group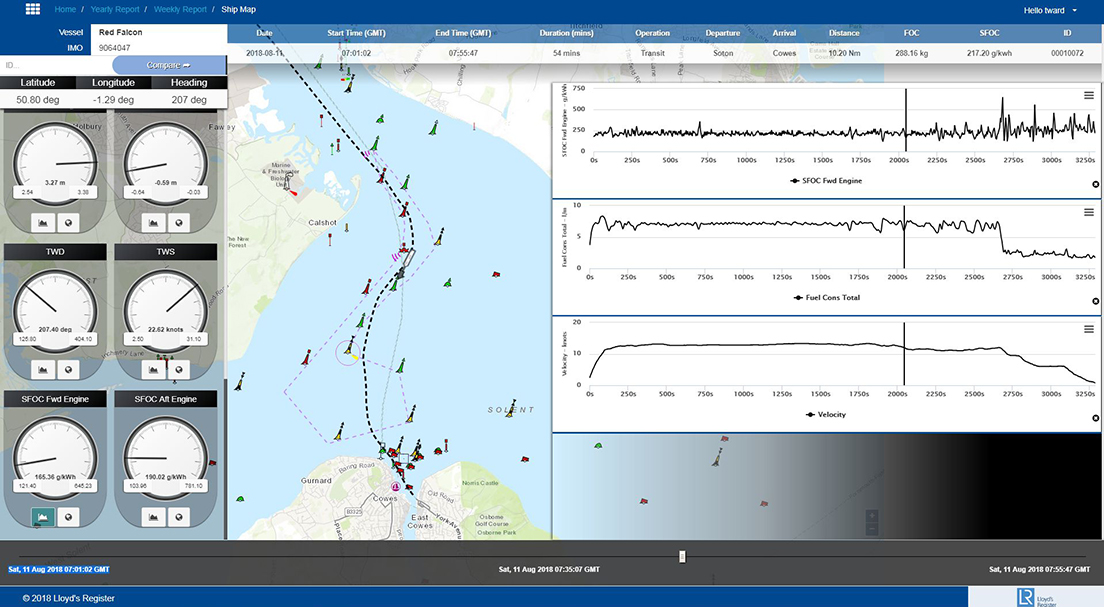 Screenshot of the Fuel Monitoring and Analytics application
Key services and solutions
Here are links to some of the services and solutions that came together to deliver the project.