In boardrooms across the world, business leaders are focused on how their operations impact climate change and the actions they must take to mitigate global greenhouse gas emissions. Many are turning to organisations like LR for advice.
LR's Business Advisory Unit has been commissioned to undertake a comprehensive review and gap analysis of the sea transport operations of the Kuwait Oil Tanker Company (KOTC), a subsidiary of the Gulf state's energy company responsible for the carriage of crude oil, products, and liquid petroleum gas exports. The Kuwait Oil Company, a highly respected energy major, relies on KOTC to fulfil the sea transport requirements of its commercial shipping operation which is managed by the Kuwait Petroleum Corporation.
Although the world will require large volumes of hydrocarbon energy for many years to come, senior executives across the energy giant's various divisions are intent on reducing the carbon intensity of both hydrocarbon production and transportation. The momentum for this sector-leading strategy has gathered speed in the wake of new IMO carbon intensity regulations in place since the beginning of January.
KOTC operates a modern fleet of consisting of 11 VLCCs, 13 product tankers, and five LPG carriers. Well over half of the company's ships are less than ten years old.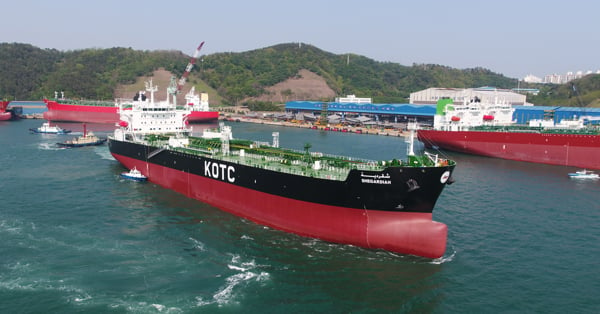 Jack Spyros Pringle, LR Lead Consultant, said: "We are delighted to have been retained by the Kuwait Oil Tanker Company. This leading Middle East shipowner and operator has an impeccable record of first-class operation, a proactive approach to embracing industry developments, particularly in the environmental, social and governance arena, and new ambitious targets on decarbonising its fleet operations."
Energy transition strategy
"This contract is important for us because it mirrors our philosophy and fully supports the strategy for which LR's energy transition advisory unit was established. We are therefore ideally placed to work with KOTC personnel in a trusted adviser role, helping them to design and set up a comprehensive energy transition strategy designed specifically in line with their key performance indicators."
Pringle explained that consultants in the classification society's Business Advisory division have drawn up a framework in preparation for these types of projects. The setup is flexible and can be tailored to meet the requirements of different types of corporates with varying objectives.
"In this case, we will be assessing KOTC's current position – its alignment with voluntary initiatives such as the Sea Cargo Charter, for example, as well as the company's own internal performance parameters. Using our own emission estimation models, we will be able to assess the overall fleet's carbon footprint and its position relating to other major tanker companies operating in the same space."
The analysis will then drill down to examine the KOTC fleet, vessel by vessel. With advice from the tanker company on specific objectives, the advisers will prepare vessel strategies to enhance carbon efficiency while maintaining commercial competitiveness.
Carbon intensity indicator assessments will be calculated for the company's tankers and gas carriers, together with a gap analysis of the delta between today's ratings and likely requirements in the future. Options can then be prepared on the possible uptake of carbon-reducing technologies such as slower speeds, the use of energy saving devices, voyage optimisation software and, potentially, new fuels.
Regulatory developments
A key element of the LR analysis will be the design of a time-driven road map for KOTC's energy transition. This will include assessments of likely future marine fuel and regulatory developments which could affect the tanker company's operations.
Issues such as the availability of likely future fuels at the ports and terminals used by the company's tankers will be assessed. The possible impact of new carbon-related regulations on the KOTC operation – including the European Union's Emissions Trading System and FuelEU Maritime will be analysed. Techno-economic modelling will be used to assess the outcomes of certain strategies, thereby identifying the most favourable options.
"We are really looking forward to working on this energy transition project," said Pringle, "because it is a clear sign of how the industry must embrace change. KOTC, as a first-class tanker operator, is a pioneer in this respect. It is notable that the company is a wholly-owned subsidiary of the Kuwait Oil Company and its strategy reflects the progressive attitude of its parent.
"It is really encouraging to see how the group's executives – both in the oil company itself and also within KOTC – have a proactive approach to change, he added. "Our job is to help them to manage it as effectively as possible."