The first superyacht with the ability to choose between diesel, diesel-electric or fully electric propulsion by combining a single medium speed diesel engine, a single central propeller shaft installation, three gensets, batteries, propeller, azimuthing thruster and a streamlined hull shape.

Offering fuel savings of up to 30%, the pioneering electromechanical propulsion platform marries Feadship's past experience and forward-thinking approach with a pure custom creation. Further innovation comes in the form of a floating superstructure, an underwater lounge, the open aft deck areas and much more.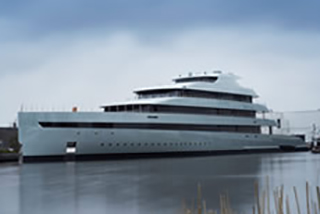 Redundancy is ensured by fitting a large contra-rotating and azimuthing stern thruster just aft of the main propeller. The design of the aft ship allows for a propeller that is 40% larger than normal. Combined with the power supplied by the thruster, the load on the propeller is only half that of a conventional twin-screw yacht. This results in a higher efficiency and fewer vibrations. In addition, the large stern thruster also ensures excellent manoeuvrability in marinas.

The complete design package offers major benefits in terms of fuel saving, and consists of five modes: manoeuvring, diesel-electrical, range, high speed and boost. It is the way that the individual technologies are combined that is a novelty in the yacht industry. Savannah is also the first yacht in the world to be running with an Azipull and a variable-pitch propeller. Batteries provide extra speed at the top end, allow proper loading of the generators at any speed, and facilitate super-quiet cruising at slow speeds without any engines turning.

Ben Boon, Feadship's New Projects Manager, said: "This project was only made possible thanks to the vast experience and pro-active co-operation between Lloyd's Register, Feadship and its sub-contractors."