As the challenge of decarbonisation continues to dominate the maritime news agenda, LR's Marine & Offshore Director, Nick Brown shares his thoughts on embracing the transition to a greener future for the maritime industry.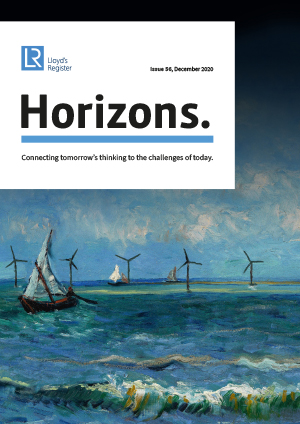 Horizons takes an in-depth look at LR's new Maritime Decarbonisation Hub and how it will provide a platform for the acceleration and integration of industry-wide initiatives. The Decarbonisation Hub was officially launched earlier this month, with the opening of an interactive virtual gallery showcasing well-known artworks reimagined to depict a zero-carbon maritime future by renowned artist Reuben Dangoor.
Hear from IMO Secretary General, Kitack Lim, about the importance of the shipping industry remaining united to tackle decarbonisation. New BIMCO Secretary General and CEO, David Loosley, shares his thoughts about how the resilience and innovation demonstrated throughout the COVID-19 pandemic could be applied to accelerating decarbonisation efforts. Horizons also examines the challenges around fuel supply chain readiness, biodiesel blends, nuclear power and the projected growth of offshore wind.
LR CEO Alastair Marsh shares his reflections as he signs off on his 14-year tenure, with the last five as CEO. Horizons also takes a detailed look at the findings from our survey on maritime workers' wellbeing during COVID-19, and the important lessons for the industry.
You can also read about how the Sustainable Shipping Initiative's updated Roadmap aims to guide shipping through its sustainability journey, and LR's regulation experts provide an overview of the new regulations that will take effect over the coming year and examine the outcomes from MEPC 75.
Other subjects include recent remote survey success stories, key takeaways from LR and Nettitude's cyber security webinar, the future of safetytech and video analytics in the marine industry and the evolving world of tank inspection technology.