Our bulk carrier has hit an iceberg and we have damage and flooding forward
This was one of the first approaches to LR in the late 1970s which triggered the foundation of SERS in the early 80s – the first class society to do so.
Supporting ship and shore personnel through 2,000 responses for all ship types, SERS is the most experienced provider in the field with a highly advanced state of readiness:
two highly trained, 3-person teams on call 24/7, from a pool of 25 naval architects and mariners
dedicated response centre with multi-event capability and robust continuity arrangements
sophisticated software, web conferencing, electronic plans for effective collaboration
ability to translate into Mandarin, Japanese, Korean
Which types of ship have benefited?
Reflecting on 35 years of support, all ship types suffer casualties at broadly the same rate, face similar technical challenges and hence benefit from SERS technical support.
In the early years, with single hull tankers and events such as Amoco Cadiz and Exxon Valdez, pollution prevention was in the public awareness and legislation mandated such a service for oil tankers, to protect the environment. Passenger ships guidelines/requirements was introduced to enhance safety of life.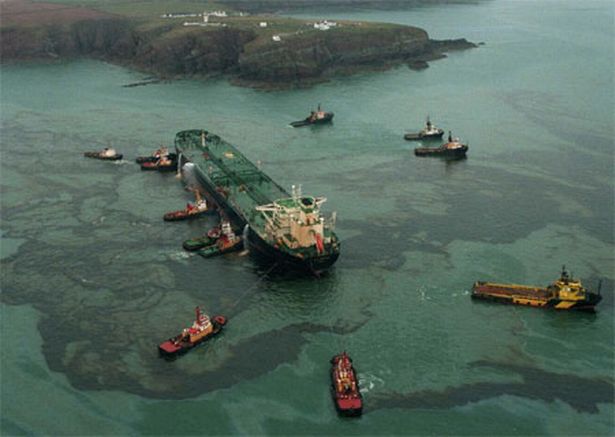 In 1993, following a piloting error the SEA EMPRESS grounded off Milford Haven in Wales. Due to badly deteriorating sea conditions there was massive oil spill. SERS gave support and were commended by UK MCA.
Operators of non-tankers have increasingly recognised that SERS enrolment makes good business practise, by sharing a subscription service to give access to the levels of preparedness and experience required to meet the needs of any eventuality. However, world fleet analysis shows that although the number of non-tankers enrolled with providers has increased to a majority over tankers, there are many thousands of ships not enrolled. So, are the benefits of emergency response still overlooked or perhaps not appreciated in this sector? Or perceptions marred by current legislation?
Operators have their reasons not to enrol non-tankers, however by highlighting the challenges, in preparing for and responding to of real emergency situations, questions can be asked of current arrangements and other issues, to enable operators to assess risks and make an informed choice.
Legislation issued by the US Coast Guard in 2014 requires that non tankers trading to the US require the Vessel Response Plan (VRP) to name a provider of damage stability and strength assessment services.
However, it does not stipulate a pre-prepared model and the decision whether or not to have a model in place prior to the incident is the responsibility of the operator.
Timeframes to complete damage assessments are 12/18 hours, for near/offshore areas. From our experience, not having a pre-model could present problems for the operator:
Creating an accurate model requires plans which can be difficult to source (especially hull form).
Risk of timeframes not being met with possible fines. Calculations for time critical stability and oil spill situations may be completed too late.
A rapidly prepared model could be sub-standard, with a risk of inaccurate calculations.
Is it a matter of time before other authorities follow this initiative, or a SERS type service becomes mandatory for all ship types, especially those with large bunker capacity, or more stability critical ships such as roro?
Technical lessons learnt
How is the sea bed/hull interaction established after grounding? Or the damage extent after severe collision at night, or damage underwater? After fire or explosion? How to assess hull failure mid-ocean, or breaking in two? What about cargo shift and liquefaction, terrorist attacks or a tsunami?
In the early stages of an incident, damage information may be limited and assumptions will have to be made. To learn from our experience, in modelling and refining the assumptions through the course of an incident click here.
Response lessons learnt
Responding to 2000 callouts has helped evolve SERS into a robust service, and incidents such as Costa Concordia resulted in concentrated efforts to accentuate areas of response and training - we are still learning. We look forward to the development of further analysis tools from research into damage structures through collaboration with research groups.
Guidelines have been issued by OCIMF and IACS, which address emergency response service provision but, in practise the effectiveness of the response with the operator can still be problematic. To support decision making, the SERS response with the operator can be represented as a chain with 8 elements:


SERS encounter recurring weaknesses in the chain that lead to delays and errors which can elevate risk levels. The red highlighted links are seen as the key issues to be addressed to help improve levels of preparedness: communications, availability/capability of personnel and supply of casualty data.
Exercises are a useful means of finding any weak links and we recommend them annually, involving SERS with a realistic scenario. Groundings are the most common type of real casualty and can be the most challenging to gather data.
Find out more
Read the paper to find out how we refloated a bulk carrier blocking the channel, refloated a capsized car carrier and refloated a container ship with a broken back