Reducing the carbon profile of many hundreds of inland waterway cargo vessels through well-thought-out retrofits and replacement tonnage could help address emissions concerns.
Many of the vessels operating on Europe's vast inland waterway network were built long before sustainable operations became a priority. These ships operate on many of Europe's principal rivers and canals, often close to populous areas. Their emissions profile is a growing concern.
But the 'greening' process is gathering momentum. LR has been hired to support a massive 40-ship construction contract for Parsifal-class inland waterway tankers which are being built to a Damen design and powered by LNG. Although the ships' dimensions are in line with other inland waterway tankers, they will have a very shallow draught – 2,800 dwt on 3.25 metres – thereby maximising trading flexibility.
The tankers, ordered by institutional investors advised by J.P Morgan Asset Management, will be deployed on long-term charter to Shell in the carriage of mineral oils between some of Europe's largest ports including Amsterdam, Antwerp and Rotterdam and inland waterways in Belgium, Holland and Germany. The tankers will have a capacity of 3,040 cubic metres in eight cargo tanks.
The engines are being supplied by MAN Rollo, the international importer to Europe of MAN products including engines, energy systems, parts and service support for coastal ships, inland waterway vessels and yachts. On board the tankers, two MAN Rollo marine generator sets will be driven by natural gas engines, each rated at 495 kW at 1,800 rpm.
The ships' hulls are being built at Kladovo Shipyard in Serbia but the tankers will be fitted out at Concordia Damen in the Netherlands. The first vessel is due for delivery in December 2021 with others following at regular intervals until 2024. Technical management and crewing of the ships will be carried out by a joint venture between VT Group and Marlow Navigation Netherlands.
Bas Joormann is LR's Inland Waterway Product Manager in the Netherlands. Describing the 40-ship order as one of the highlights for him of a challenging 2020 due to the pandemic, Joormann believes there is great potential to reduce the carbon profile of many hundreds of inland waterway cargo vessels, both by well-thought-out retrofits as well as new replacement tonnage.
He points out that each of the 40 tankers will be significantly more fuel-efficient than those that are used in these trades today. And with LNG power, their emissions profile will be improve dramatically. Carbon dioxide emissions are likely to fall by about 25%; SOx by around 90%; NOx by at least 80%; and there will be virtually no emissions of particulate matter.
LR is well-placed in the inland waterway segment, with a market share of about 70% and growing. Experts believe that as the transport sector's decarbonisation drive accelerates, more cargo is likely to be shipped through Europe by rivers and canals.
But tightening regulations will require the highest level of sustainable operation. This is already a top priority, with new Stage V emissions limits introduced from 2018. But there is plenty to do in the upgrade and replacement of existing older vessels.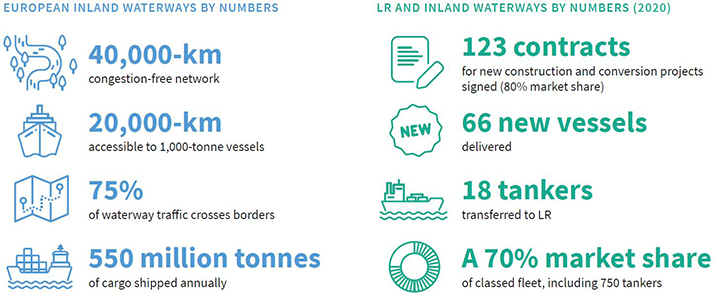 Infographic showing LR and Inland waterways by numbers (2020)