Changing weather patterns, a rapidly expanding global population and polluted oceans act as pressing reminders that we must find sustainable, efficient and clean industry solutions.
1. Sustainable decommissioning
Whether in oil and gas, nuclear or other heavy industries, all assets eventually reach the end of commercial operations. With that, a series of difficult decisions need to be made. These decisions have social, economic and environmental impacts. By using a sustainable decommissioning approach, we help our clients shed light on a site's assets. This increases potential for reuse and, in turn, potential for greatly reducing waste volumes and risk.
2. Food
With the global population estimated to reach 8.6bn by 2030 there is a growing challenge to feed everyone. Globalisation leads to increasingly complex supply chains and distribution networks. Food safety and sustainability is of increasing concern to the public, primary producers, processors and retailers. Food fraud is a real risk to staple food items, whilst there is growing pressure on supply and demand. Product safety, traceability, resilience, social impact and quality are becoming increasingly important to our clients in the food industry. Our adoption of the Greenfence remote auditing platform and recent acquisition of Acoura are helping us to strengthen our position in the food and beverage sector and offer solutions to new markets.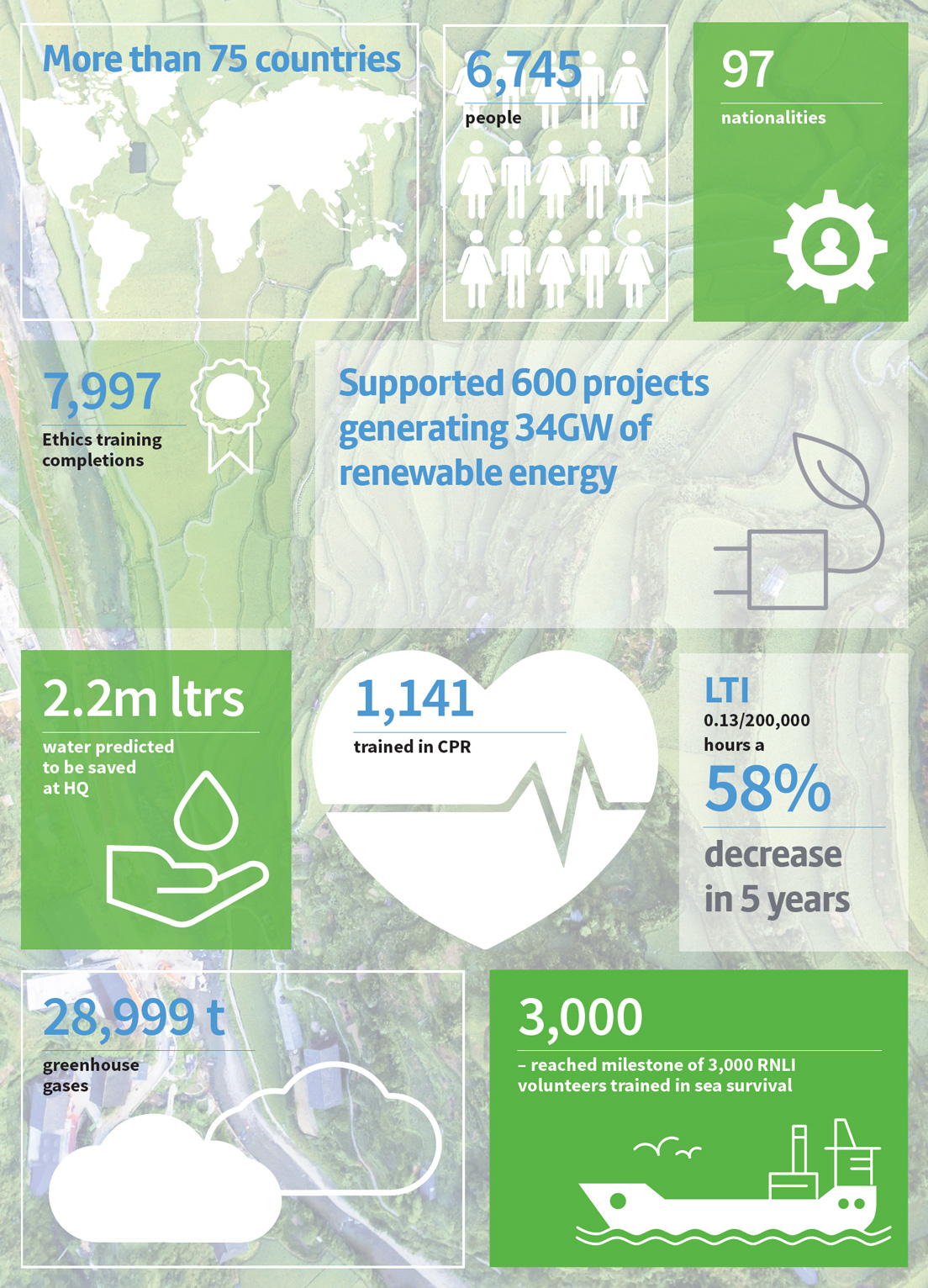 More than 75 countries. 6745 people. 97 nationalities. 7997 ethics training completions. Supported 600 projects generating 34GW of renewable energy. 2.2m ltrs water predicted to be saved at HQ. 1141 trained in CPR. LTI 0.13/200000 hours a 58% decrease in 5 years. 28999t greenhouse gases. 3000 - reached milestone of 3000 RNLI volunteers trained in sea survival.
3. Low carbon power
There is an urgent need to reduce greenhouse gas emissions. Renewable power generation is the fastest growing source of electricity and by 2020, 26% of global power will be generated by renewables. Our independent verification and technical advice will provide the trust and assurance that operators, societies and regulators demand. At LR, we have a focus on nuclear and renewables and we're already demonstrating thought leadership in this space. Our verification and technical expertise will also be called upon to help clients address the safety challenges of developing low carbon assets and infrastructure.
4. Digital innovation
By 2020 it is estimated that over 80% of the Fortune 500 companies will be digital service suppliers. Technologies such as Blockchain will make supply chains more energy efficient while also providing high levels of transparency. Similarly, the deployment of data science and artificial intelligence will provide much deeper insights into the risks, control measures and enable evidence-based interventions. Our digital products and services will enable the safety risks of new technologies and materials to be understood and verified, and the deployment of artificial intelligence and data science to make more informed risk-based decisions.
5. Cyber security
As assets and supply chains become increasingly connected to maximise the potential of the digital transformation, so their vulnerability to cyber-attacks increases. For high risk assets and supply networks, the implications of a cyber-attack have significant impact on their reliability, safety and efficiency. Through our cyber security expertise we assess the technology, decide on the level of digitisation that's right, then deploy data streaming and other cyber systems safely, effectively and profitably. LR's recent acquisition of Nettitude brings proven technical expertise in advising, testing and verifying cyber vulnerabilities, and providing practical solutions that ensures our provision remains consistently relevant, robust and up to date.
Action Platform for Sustainable Ocean Business
In 2018, LR became a signatory of the UN Global Compact and a founding member of the UN's Sustainable Oceans Action programme. The three-year programme convenes leaders in ocean industry along with the UN, world governments, academia and civil society. As an organisation involved in setting standards for the shipping sector for over 250 years, LR has an important role to play in ensuring the programme is realised.