Augmented Reality (AR) and Virtual Reality (VR) are beginning to make in-roads across industries such as transport, manufacturing, oil and gas, and marine & shipping.
The market size for AR and VR is forecasted by P&S Intelligence market research (globenewswire.com) to reach a market value USD $94.4 billion by 2023. Why is there so much interest in AR and VR technologies in business? It's very much about performance efficiency and managing risk. VR in a commercial operation can be used to eliminate almost all design flaws and allow users to further explore all usability scenarios, whether a Smart City, Smart Transport or any autonomous operations. VR can also help realise the user experience in an interactive capacity and, importantly, help to enhance safety, reliability and longevity testing. For example, a ship's performance in different weather patterns and wave conditions throughout its life span can be tested using the AR/VR approach through every phase of the design cycle.
5G will offer seamless Gigabit communication with the latency of less than 1 ms which will make the AR/VR a fully mobile reality, and the UHD video quality stream will enrich the user's reality experience.
Easily accessible and affordable 3D content and creation is another factor for AR and VR that will take off in a big way. For example, Cappasity claims it is the first platform with blockchain infrastructure that solves the problem of creating and embedding 3D and AR/VR content and in an affordable way.
Price points of headsets are of course another important aspect as the immersive technologies are increasingly adopted by users in both consumer and commercial applications, including skills learning and training. Recent price drops of the headsets from Oculus, HTC, Microsoft and others are a good indicator towards the market's future growth volumes.
Enhanced cyber security is a critical factor to be considered as more and more businesses are embracing VR solutions. Interest by tech giants including Facebook, Google, Apple, Microsoft is a good lead factor on the future investment of AR/VR solutions to further advance the way businesses innovate and transform their own operations and services they take to market. Examples such as the mobile-based AR with Apple's ARKit and Google's ARCore are gaining traction and will help accelerate the development of new innovative applications.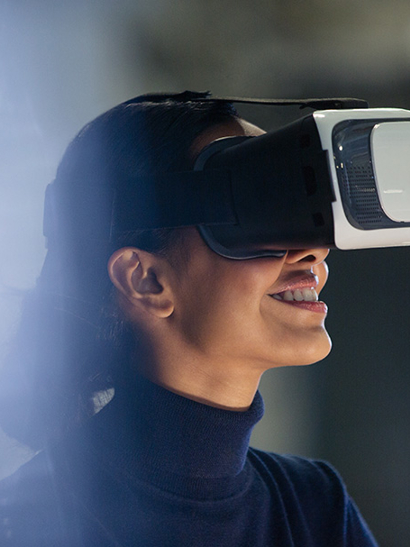 Lockheed Martin is using AR/VR fuelled with machine learning to explore new frontiers in sending humans to Mars.
Stanley Black and Decker is using AR/VR to transform manufacturing as part of their investment in SBD Makerspace.
Lloyd's Register is using AR/VR for ease of communication and collaboration that can enhance the field service at a remote site for example at sea, or in any other harsh environment, to provide increased productivity combined with increased safety.
The National Museum of Singapore's DigiMuse initiative includes VR that takes the museum tour experience to a greater level of visitor engagement.