Lloyd's Register Foundation's Chief Executive Ruth Boumphrey is inspired by her family's maritime connections to create a safer, more sustainable world. Her background in environmental science, coupled with her mission to 'create coalitions of people who care' has led to her being named in Cranfield University's 'Women to Watch 2022'.
Ruth is convinced everyone has a maritime story to tell.
"When I joined the Foundation eight years ago, it struck me that there are so many inspiring and important stories to tell about the shipping industry, and that many people have personal connections. My great grandfather was a chief engineer for the White Star Line, my in-laws were French polishers on the cruise liners in Southampton and my grandfather used to work his passage around the world as a ship's doctor."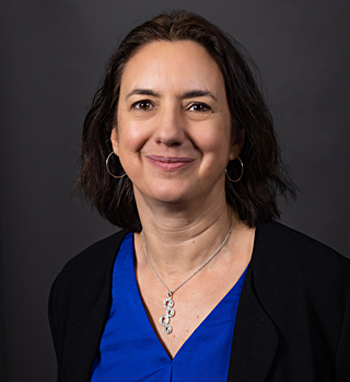 Appointed as CEO in July 2022, Ruth has a background in research, development and regulation, primarily in the space and environmental sectors. She is also a trustee of the National Oceanography Centre and a non-executive Director of Cefas – the Centre for Environment, Fisheries and Aquatic Sciences – a UK Government appointment. Her interest in the environment was ignited at school by her English teacher Jonathan Porritt who was also the leader of the green party at the time.
"It was during Jonathan's classes that I had my first 'aha' moment. I realised this planet keeps us alive. You have to protect the planet in order to protect the people," said Ruth. "When I went to university, Environmental Science was a very niche subject in the UK with very few people taking the study of the environment seriously.Society now has a much greater understanding and appreciation of our blue planet. I felt my degree equipped me with knowledge and skills to change the world for the better."
Ruth gained a PhD in ecotoxicology and spent several years working in environmental protection, marine science and technology and in the space sector, leading the UK's national Earth Observation satellite programme. With more than 30 years of experience from the tropics to the poles, she is passionate about the interconnectedness of the oceans and how they support life on earth.
"When you view Earth from space, you see a blue marble. Water covers 70% our planet. It is the seas that connect us all and that's why we need to protect them and the people that rely on them, to survive. For centuries, people have been connected by the oceans, with ships moving people, food and cargo around the world and providing jobs for millions of workers. Today the interconnected maritime sector is the backbone of international trade, with around 90% of goods transported over the seas. Safety is critical," she said.
With an often 'invisible' workforce, operating out of sight and all too often, out of mind, there is a need to raise awareness of the issues that affect seafaring communities and workers in ocean-related industries around the world.
Ruth comments: "There are so many issues that put people's safety at risk and many of these are hidden from public view. At the Foundation, we aim to shine a light on these issues, creating global coalitions of people who care, and who can work together to make a difference, making sure that people and the infrastructures that support them are safe and resilient – and the right investments are made."
There are so many issues that put people's safety at risk and many of these are hidden from public view. LR Foundation aims to shine a light on these issues.
Ruth has always been passionate about supporting people, instilled in her from an early age by a family very much involved in social activism and change. This drive to give unheard people a voice and to create projects and programmes that protect both people and the planet we inhabit has continued throughout her career, featuring prominently in the various roles she has held. Today, as Chief Executive of the Foundation, she is committed to continuing the charity's mission to engineer a safer world in a challenging, complex, and dynamic landscape.
"We are seeing catastrophic change which will be exacerbated through population growth and further climate impact. We will support the maritime industry, helping to tell its story and bring stakeholders together to collaborate and develop new technologies, approaches and ways of working to ensure people around the world stay safe," Ruth commented.
LR's structure, with the Foundation as sole shareholder of Lloyd's Register, provides a unique opportunity to gain insight from across the maritime sector. The Foundation in partnership with Lloyd's Register Group can build evidence and insight and take a longer-term view through the Foundation's Foresight work. All of this helps ensure LR can help shape solutions for the industry whether in relation to technology, innovation, engineering, infrastructure or skills.
Going forward, Ruth's ambition is to work with and support organisations on the ground in geographies which need it most, increasing capacity and knowledge and in doing so, ensure safety is on the agenda around the world to protect people and communities. A just transition to a low carbon, sustainable ocean economy necessitates investment, education, infrastructure, innovation and decent, safe jobs – all without causing harm elsewhere and without propagating existing inequalities or creating new ones – something the Foundation is very much focused on.
She concludes: "It is vital that we build capability in different parts of the world, working with others to embed safety and increase capacity on a local level. Our mission is to serve areas of society that really need it and make a real difference in engineering a safer world."
Read more articles like this in Horizons
Thought leadership, maritime insights and expert advice from Lloyd's Register.