Operating sustainable fleets with zero-emissions vessels
By 2030, Zero-emission Vessels (ZEVs) must become a part of the global fleet to meet targets set out in the Paris Agreement. Stakeholders must prioritise the development of zero carbon fuel supply chains, including ship-board solutions and the necessary land-based infrastructure. While zero-emissions solutions have been implemented in niche applications, there is a lack of established solutions for large-scale ocean shipping, resulting in conflicting opinions and debates among the shipping industry on alternative ways to decarbonise. Organisations seeking reliable guidance must now navigate this complex landscape.
Making the right decisions
How can the shipping sector make the right decisions relating to future fuels and technologies today and in the coming years? 
Zero Carbon Fuel Monitor uses a framework to assess the readiness of the most promising zero carbon fuels and related technologies that could play a role in getting the entire shipping industry to zero emissions by 2050. Zero carbon fuels are defined as energy systems that have the potential to deliver ship power with net-zero carbon dioxide emissions, inclusive of production and use.
Zero Carbon Fuel Monitor is a resource for the industry showing the current state of developments and indicating progress towards industry-wide solutions. It addresses three fundamental questions for decarbonising the global fleet, at each stage of the supply chain:
How close is the technology to being proven, scalable and safe?
Is the business case robust enough to attract investment?
How prepared are people and organisations to adopt the new solution?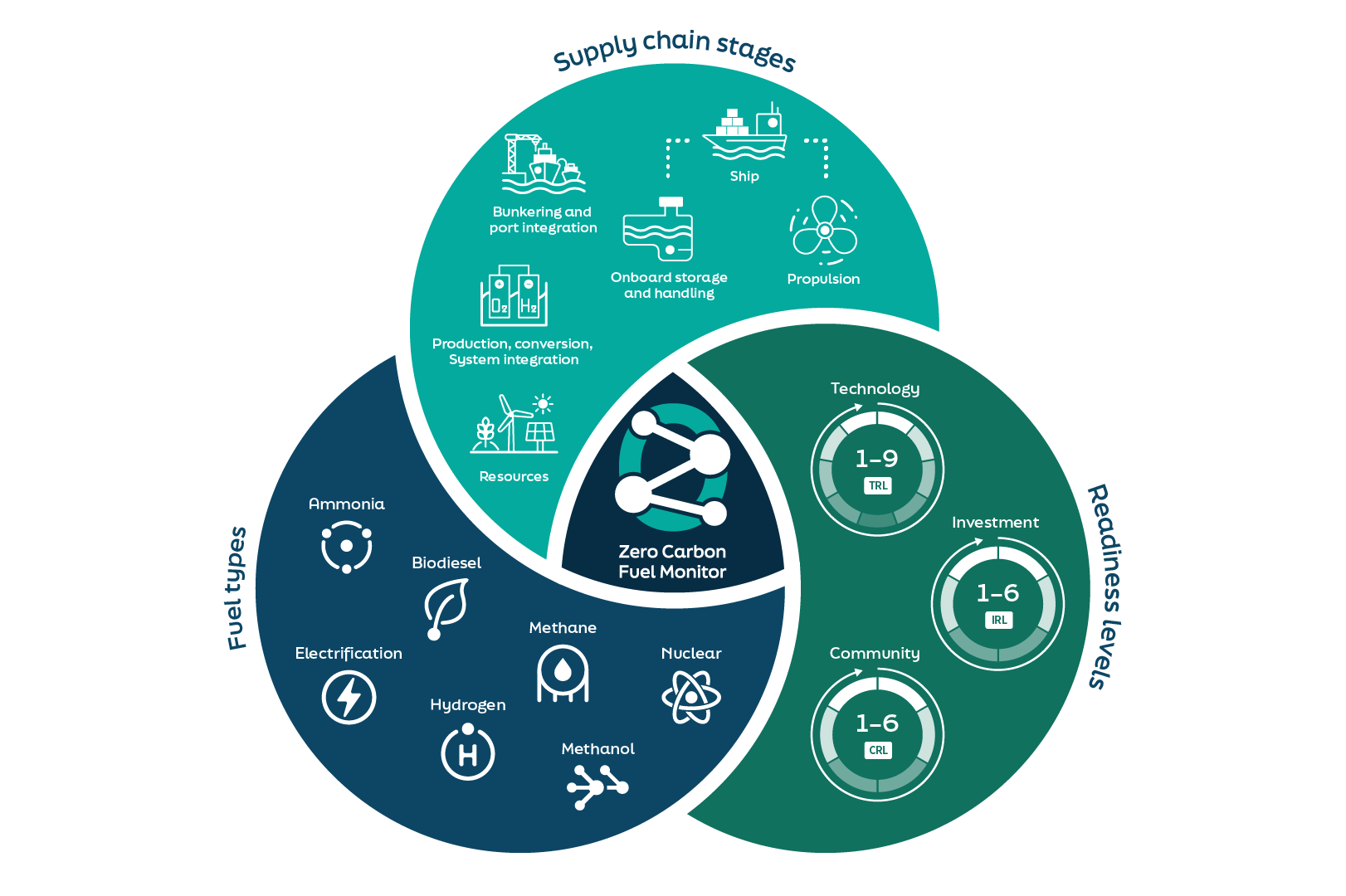 To evaluate fuels, we use three main criteria: Technology readiness (TRL), Investment readiness (IRL), and Community readiness Levels (CRL).
Advancing zero carbon readiness
The LR Maritime Decarbonisation Hub created Zero Carbon Fuel Monitor by objectively assessing evidence from a wide range of sources and combining the results with LR's own expertise in LR's readiness framework. The results are regularly updated in line with the latest developments and are used to identify research, development and deployment projects that will advance solution readiness and accelerate a safe and sustainable transition to zero.
The zero carbon marine fuels landscape is constantly evolving, and the data and insights provided in the monitor reflect LR's expert view on solution readiness and industry priorities at a snapshot in time. We welcome any knowledge you can contribute to help refine and update the information presented in this tool. Your insights play a crucial role in enhancing our collective understanding of the readiness associated with zero carbon marine fuels.