Service Suppliers providing services on behalf of the Owner/Operator of a ship (such as measurements, tests, surveys or maintenance of safety systems and equipment), the results of which are used by Lloyd's Register Surveyors in making decisions affecting Certification, are subject to approval by Lloyd's Register.
Our auditors will approve Service Suppliers in accordance with the LR requirements, to ensure these companies meet the necessary quality standards.
Approval Mark Usage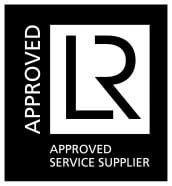 Lloyd's Register (LR) approved service suppliers are eligible to use the LR approved service supplier approval mark. The approval mark can be requested directly from statutorysupport@lr.org or from the LR office that carried out the certification.
The approval mark is to be used for marketing purposes in association with the service category for which the service supplier has valid certification.
Categories of Service Supplier Approval
Lloyd's Register can offer approval of the following categories of service suppliers:
Servicing of inflatable liferafts, inflatable lifejackets, hydrostatic release units and marine evacuation systems.
Surveys and testing of radio communication equipment.
Inspections and maintenance of self-contained breathing apparatus.
Annual performance testing of Voyage Data Recorders (VDR) and Simplified Voyage Data Recorders (S-VDR).
Inspections of Low-Location Lighting (LLL) systems using photo luminescent materials and evacuation guidance systems used as an alternative to Low-Location Lighting (LLL) systems.
Sound pressure level measurements of Public Address and General Alarm systems on board ships.
EPIRB shore-based maintenance facilities.
Servicing of immersion suits, thermal protective aids, chemical protective suits.
Maintenance, thorough examination, operational testing, overhaul and repair of lifeboats and rescue boats, launching appliances and release gear.
Inspection, performance testing and maintenance of Automatic Identification Systems (AIS).
Inspection, performance testing and maintenance of Long Range Identification and Tracking (LRIT) Systems, and Ship Security Alert (SSA) Systems.
Hydraulic tests of low and high pressure cylinders.
Inspection and testing of centralised gas welding and cutting equipment.
In-Water surveys (IWS) on ships and Mobile Offshore Units by diver or Remotely Operated Vehicle (ROV).
Inspections and maintenance of fire-extinguishing equipment and systems.
Tightness testing of closing appliances such as hatches, doors, etc. with ultrasonic equipment.
Examination of Ro-Ro ship's bow, stern, side and inner doors.
Surveys, servicing and testing of lifting appliances.
Surveys of repairs of fibre reinforced composite craft.
Surveys of repairs to wooden vessels.
Measurements of noise level on board ships.
Tightness testing of primary and secondary barriers of gas carriers with membrane cargo containment systems for vessels in service.
Visual/sampling checks and testing for hazardous materials, such as asbestos, PCBs, TBTs, CFCs and PFOS on board ships.
Inspection of watertight cable transit seal systems.
Survey using Remote Inspection Techniques (RIT) as an alternative means for Close-up Survey of the structure of ships and Mobile Offshore Units.
Testing of coating systems in accordance with IMO Resolution MSC.215(82), as amended, and IACS UI SC223 and/or IMO Resolution MSC.288(87) – refer to MQPS, Book P, 19-1.
Surveys of masts and rigging.
Condition Monitoring Service Suppliers.
Commissioning Testing of Ballast Water Management Systems (BWMS).
Measurements for Determination of a vessel's Underwater Radiated Noise.
Measurements for Determination of a vessel's Airborne Radiated Noise.